Tmall-Alibaba's professional online integrated shopping platform, the world's favorite quality shopping city! Aims to lead Chinese consumers to discover and experience a globalized and better lifestyle for the first time, and start their ideal life in the trend ahead of time! Ideal life, go to Tmall!
Mobile Tmall APP is a shopping client specially developed by Tmall for mobile devices. The Tmall client uses themed operation methods to display products to users, focusing on the emotional expression of the products, allowing users to "read" the products; the recommendation of contextual products allows users to get closer to the products. It is not only hope that the user can obtain the product itself through transaction behavior when shopping, but also hope that the user can obtain spiritual enjoyment when receiving product information.
I am mainly responsible for the design and upgrade iteration of the two pages of "Home" and "User Profile"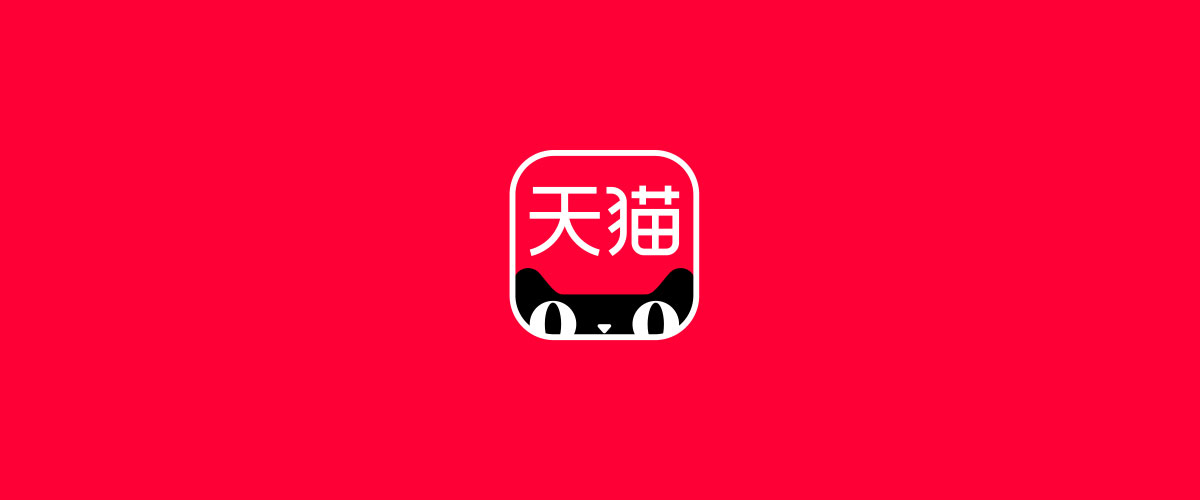 Design
Home
In order to shorten the reach of goods and people, thereby improving the shopping guide and distribution capabilities of the homepage, in 2019, the mobile phone Tmall's homepage has adopted a dynamic version, which presents different structured homepages according to different user types ( (Including regular version, newcomer version, sales version, etc.) For different versions, the homepage uses a consistent visual language to ensure the basic experience while highlighting the characteristics of different versions, which conforms to the mental positioning of the version.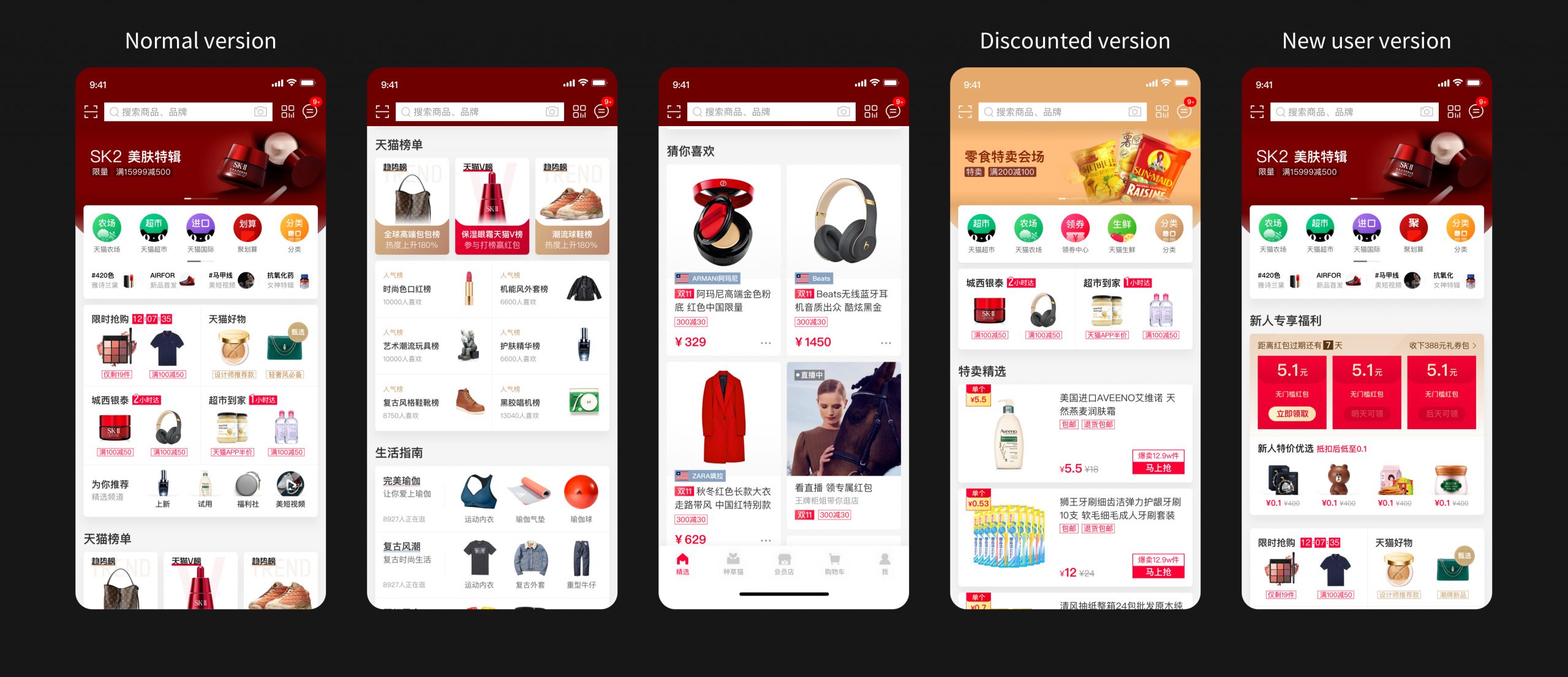 The use of Tmall brand symbols
Apply Tmall's LOGO as a graphic symbol to various places on the page

Home Marketing Capacity Building
Tmall has many promotional activities of different important levels every year, and define the atmosphere according to the importance of activities and give different design scheme

User Profile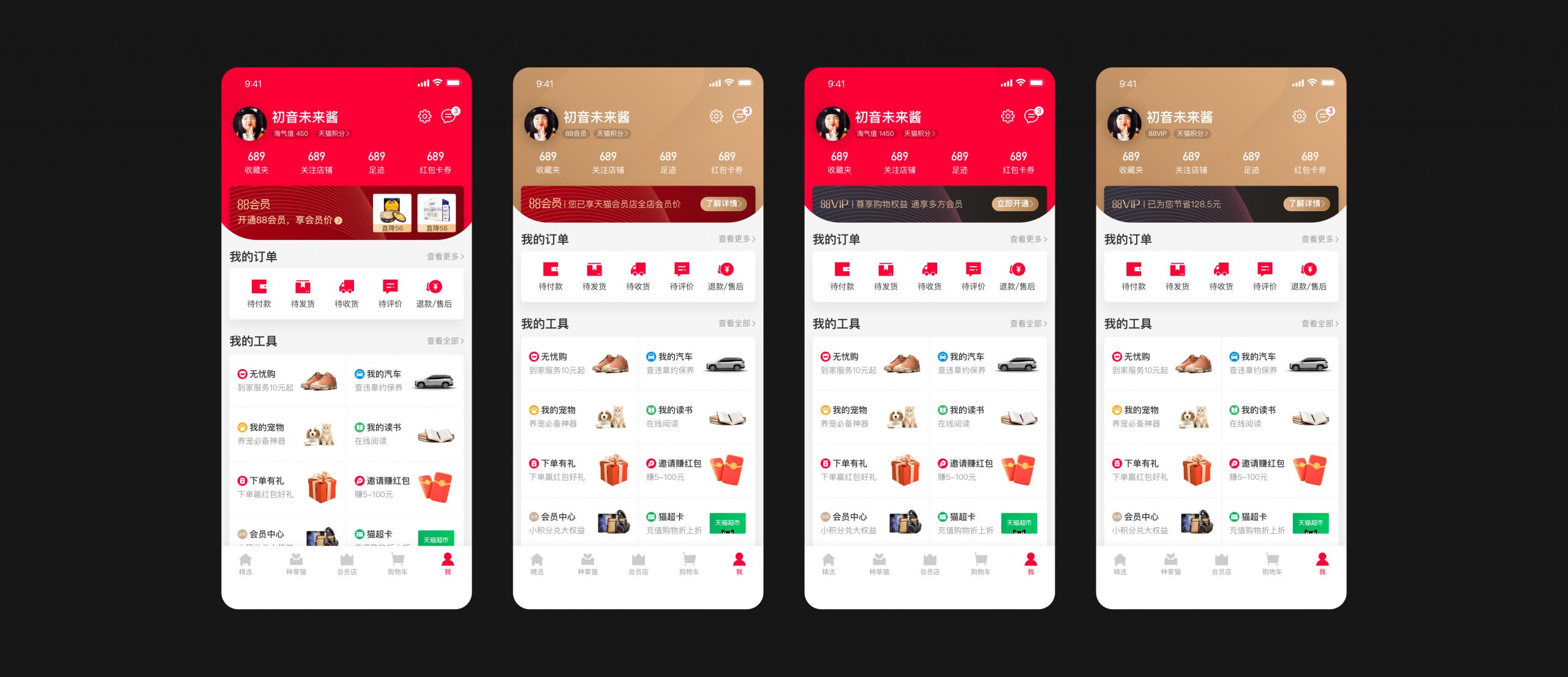 Illustration